Welcome to Two Sisters Antiques & Collectibles
---
Located in West Medford, Ma, Two Sisters Antique & Collectibles Gallery, is the largest independently owned antique and decorator store in the Greater Boston area.  With more than 2,000 square feet, this one-of-a-kind store consists of two full size store front shops offering an ever changing inventory of unique vintage and antique furniture, lighting, pottery, glassware, jewelry, artwork, and clothing as well as many more decorative items.
Two Sisters is bound to have that special item that you have been searching for. We buy coins, jewelry, gold, scrap gold, any age, any condition.  We also buy sterling silver flatware, sterling silver candlesticks, sterling silver bowls, sterling silver teapots, sterling silver coffee pots, sterling silver trays and sterling silver jewelry.
---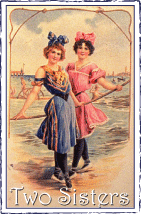 LINDA & THERESA
A Classic Tale of American Entrepreneurship
Linda and Theresa encompass the classic tale of American entrepreneurship. After years of working in the banking industry and yearning for a dramatic change in their lives, these two sisters set out to make a success of Two Sisters Antiques & Collectibles. Their Main Street USA dream of owning an antique and decorator store and pursuing their passion for antiques and collectibles became a reality for them in 2001.
Their countless hours of shopping for the right selection of merchandise, the constant evaluation of displays and non-stop interaction with their clients, have made this endeavor a relentless pursuit for perfection.
Two Sisters Antiques & Collectibles invites you to come in and meet the owners, Linda and Theresa personally. We are sure that you will know how much they care about their shop, their merchandise and their customers.
WHY CHOOSE US 
Our unique services include:
Gift Registry for any occasion
Personalized Shopping
Wish List
Both Buying and Selling of Estate Items
Buyers of gold, scrap gold coins, sterling silver, real jewelry, vintage costume jewelry and coins
Gold parties are available upon request
Assistance with finding the best mover for your new purchase with Two Sisters
Senior Citizen Discounts are offered daily
Special discount programs for those who qualify through designated organizations
Movie Production and Theatre rentals available
Rentals for Real Estate Staging available
Window Display Creations and rentals available
Special discounts for military personnel, firefighters and police officers
Readers Choice Awards -2014
Silver Regional Award for Best Antique/Vintage Store (in 9 cities)
Voted #1 in Medford for Furniture
Voted #1 in Medford for Best Consignment Shop
Honorable Mention in Medford for Best Gift
Readers Choice Awards -2012
Voted #1 Antique/Vintage Store in  Medford

Silver Regional Award for Best Antique Shop (In 9 Cities)
Readers Choice Awards -2011
Gold Regional Award for Best Antique/Vintage Store (In 9 Cities)

Voted #1 Antique/Vintage Store in  Medford

Voted #1 Home Decorating Store in Medford

Honorable Mention in Medford for Best Gift Shop

Voted #1 in Medford for Furniture Store

Voted #1 Consignment Shop In Medford

Honorable Mention in Medford for Women's Clothing Store

Honorable Mention in Medford for Best Jewelry Store
Readers Choice Awards -2010
Gold Regional Award for Best Antique/Vintage Store (In 9 Cities)

Voted #1 Antique/Vintage Store in  Medford

Voted #1 Home Decorating Store in Medford

Honorable Mention in Medford for Best Gift Shop

Voted #1 in Medford for Furniture Store

Silver Regional Award for Best Consignment Shop (In 9 Cities)

Voted #1 Consignment Shop In Medford

Honorable Mention in Medford for Women's Clothing Store
Readers Choice Awards -2009
Gold Regional Award for Best Antique/Vintage Store (In 9 Cities)

Voted #1 Antique/Vintage Store in  Medford

Voted #1 Home Decorating Store in Medford

Honorable Mention in Medford for Best Gift Shop

Voted #1 in Medford for Furniture Store

Silver Regional Award for Best Consignment Shop (In 9 Cities)

Voted #1 Consignment Shop In Medford

Honorable Mention in Medford for Women's Clothing Store
Readers Choice Awards -2008
Gold Regional Award for Best Antique/Vintage Store (In 9 Cities)

Voted #1 Antique/Vintage Store in  Medford

Bronze Regional Award for Best Home Decorating Store (In 9 Cities)

Voted #1 Home Decorating Store in Medford

Honorable Mention in Medford for Best Gift Shop

Honorable Mention in Medford for Furniture Store

Gold Regional Award for Best Consignment Shop (In 9 Cities)

Voted #1 Consignment Shop In Medford
Readers Choice Awards -2007
Gold Regional Award for Best Antique/Vintage Store (In 9 Cities)

Voted #1 Antique/Vintage Store in  Medford

Honorable Mention in Medford for Woman's Clothing Store

Bronze Regional Award for Best Home Decorating Store (In 9 Cities)

Voted #1 Home Decorating Store in Medford

Honorable Mention in Medford for Best Gift Shop

Honorable Mention in Medford for Furniture Store
Readers Choice Awards -2006
Gold Regional Award for Best Antique/Vintage Store (In 9 Cities)

Voted #1 Antique/Vintage Store in  Medford

Honorable Mention in Medford for Woman's Clothing Store

Bronze Regional Award for Best Home Decorating Store (In 9 Cities)

Voted #1 Home Decorating Store in Medford

Honorable Mention in Medford for Best Gift Shop

Honorable Mention in Medford for Furniture Store
Readers Choice Awards -2005
Gold Regional Award for Best Antique Shop (In 9 Cities)

Voted #1 Antique Store in  Medford

Silver Regional Award for Best Consignment Shop (In 9 Cities)

Voted #1 Consignment Shop In Medford

Bronze Regional Award for Best Home Decorating Store (In 9 Cities)

Voted #1 Home Decorating Store in Medford

Gold Regional Award for Best place to take visitors (In 9 Cities)

Honorable Mention Regional Award for Best Gift Shop (In 9 Cities)

Voted #1 Furniture Store in Medford

Honorable Mention Regional Award for Best Furniture Store (In 9 Cites)
Readers Choice Awards -2004
Silver

 

Regional Award for Best Antique Shop (In 9 Cities)

Silver

 

Regional Award for Consignment Shop (In 9 Cities)
Voted #1 Antique Store in  Medford
Voted #1 Consignment Shop In Medford
Voted #1 Home Decorating Store in Medford
Voted Honorable Mention for Best Furniture Store in Medford
Readers Choice Awards -2003
Gold 

Regional Award for Best Antique Shop (In 9 Cities)
Voted #1 Antique Store in  Medford
Voted #1 Consignment Shop In Medford
Voted #1 Home Decorating Store in Medford
Voted Bronze Best place to take visitors
Voted Honorable Mention for Best Furniture Store in Medford
Readers Choice Awards -2002
Silver 

Regional Award for Best Antique Shop (In 9 Cities)
Voted #1 Antique Store in  Medford